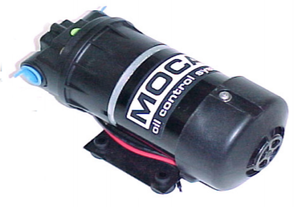 Our standard fluid pump is well suited for circulating oils in transmission and differential cooling systems. They can also be used for other applications like circulating coolant for water radiators, intercoolers and driver cool suits. Motors utilize ball bearing drive throughout and integral cooling fan for long life. Pump is a positive displacement design which is self priming and can be located up to 8 feet above fluid/feed. High temperature capable up to 285 degrees (nylon pump head/housing with Viton diaphragm/ seals). Pump head can be indexed 90 degrees for convenient fluid connection.
Specifications
Flow rate 1.0-2.0 GPM and up to 50 psi. working pressure
Positive displacement - flow is proportional to motor speed
Self Priming and can be run dry without harm 
Incorporated non fluid contact bypass valve (50 psi) prevents over pressure damage (discharge not differential pressure)
265ºf maximum temperature rating 
Viton diaphragm can be used with corrosive fluids 
3/8" NPT female fluid connections 
Rubber-isolated mounting
Can be mounted in any position
Intermittent duty rated: cycle on/off as required manually or incorporate temperature switch for automatic pump control 
Recommended filter: 40-50 mesh (400-250 micron) filter
Dimensions: 7.62" x 3.4" x 3"
Weight: 3.75 lbs
Electrical: 12 volt with 8 amp maximum (3-4 amp nominal) 10 amp fuse recommended.