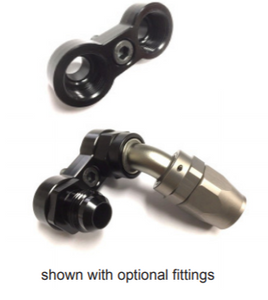 Some BMW E36, E46, E90 chassis cars are factory equipped with oil coolers utilizing manifold "hard lines" that can cause fitment issues for cars with superchargers, Accusumps or other aftermarket plumbing components. Our take off plate allows for more versatile thread-on - AN type fluid connections in place of the factory oil cooler tube/hoses.
Once converted -AN hose and fittings can be used to connect to an aftermarket oil cooler. Plate is engineered with M22 x 1.5 female ports that accept -10AN or -12AN male unions for use with standard -AN hose ends or direct to -AN swivel hose ends in 00º, 45º or 90º angles.
Although designed for the E36/46/90 engine this filter housing can be used on some E82/92/93 applications with 41.5mm spacing. This is also true for factory oil coolers that uses a similar bolt-on flange fluid connection, again check for 41.5mm spacing. Fittings are optional, specify requirement when ordering.