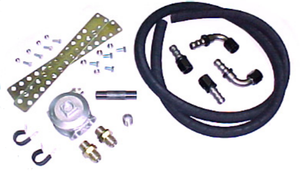 To make your VW VR6 oil cooler installation as easy as possible, this kit comes with pre-selected quality components:
(1)MOCAL thermostatically controlled, low-profile, sandwich adapter w/top cover (includes long and short threaded section for use with, or without, factory VW water heat exchanger)
(2) 1/2" x-10an unions
(8') Aeroquip 5/8" bore -10an braided stainless, rubber, or lightweight hose; high flow, 

light weight

 

(pushlock for socketless hose or taper swivel for braided hose)

.

For added versatility hose is supplied in a bulk 8 foot length to be cut and assembled with hose ends on site.

(2) 90 degree hose ends
(2) Straight hose ends
(2) Adell clamps (

 to mount/ hold hose in position)

(2) Mounting hardware 

 (oil cooler mounting straps w/ nuts & bolts)

(1)Assorted hardware nuts/bolts
Select a 10, 13, 16, or 19 row cooler and you're ready to go.